63% of customers abandon digital bank onboarding. Is biometrics the solution?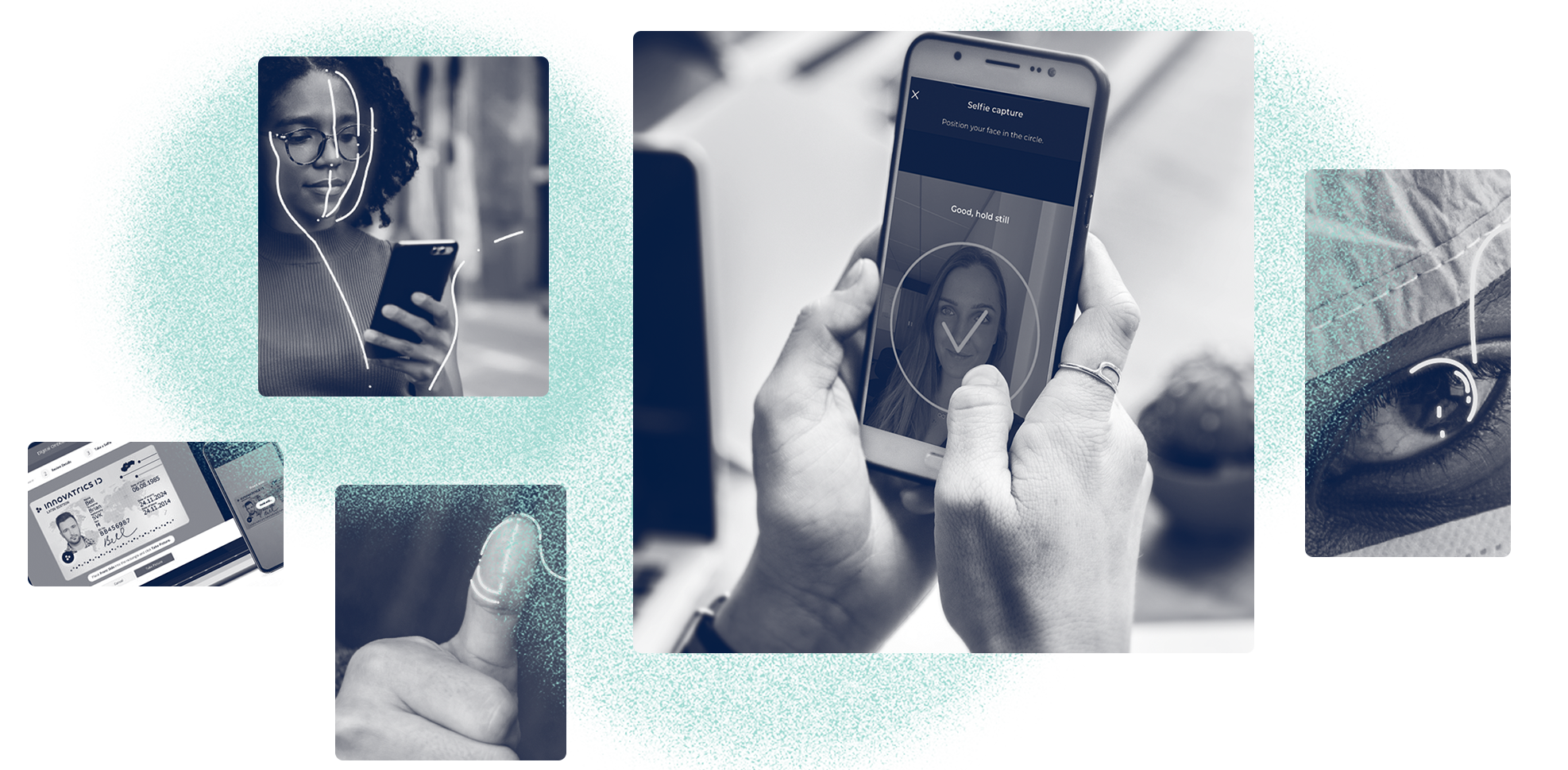 A new report shows that in 2020, of all potential customers willing to open a bank account remotely, almost two in every three abandoned the onboarding process – a sharp increase compared to previous years.
This is not good news for the banking sector. In a world changed by the pandemic, people's expectations on digital experiences have definitely risen, and despite years of huge investments in digital transformation, financial products and services are failing to give customers what they need: an effortless, 100% digital experience without loss of security. Biometrics can help.
---
2020 onboarding report
These and the other facts in this article are taken from the report The Battle to Onboard 2020: The impact of Covid-19 and beyond, published by Signicat. The study surveyed 4,000 consumers in the UK, Germany, The Netherlands, Belgium, Sweden, Finland and Norway.
The pandemic has forced people online, yet digital services turned out to be inadequate.
In 2016, 40% of people ready to open a bank account remotely abandoned the onboarding process before completion. In 2019, this drop-off rate was 38%. But in the year 2020, the rate was higher than ever: 63% on average, and reaching as high as 70% in some countries.
What's happened? Covid-19 has led financial services into newly shaped and unprecedented circumstances. Consumers have been forced to act mostly online due to limited availability for in-person services. Also, people have wanted to make their finances work harder; in uncertain times, money has become an even more sensitive concern.
In a way, it was the ideal testbed for the banking sector: was the digital transformation of services – and years of investments – adequate? It turned out it was not.
Digital onboarding – in other words, the practice of signing up for a bank account remotely – is a key moment for online financial services. Many marketing investments lead to this point, and failing to successfully onboard all customers at this stage in their journey represents significant money: it has been estimated that banks across Europe waste £5.47bn (€6.43bn) on costs related to customer acquisition, due to poor onboarding processes.
---
Two in three people don't complete the application
According to Signicat's report almost two in three people who begin a digital application do not complete it. It means an increase of 23 % in abandonment rates since the first report was published in 2016.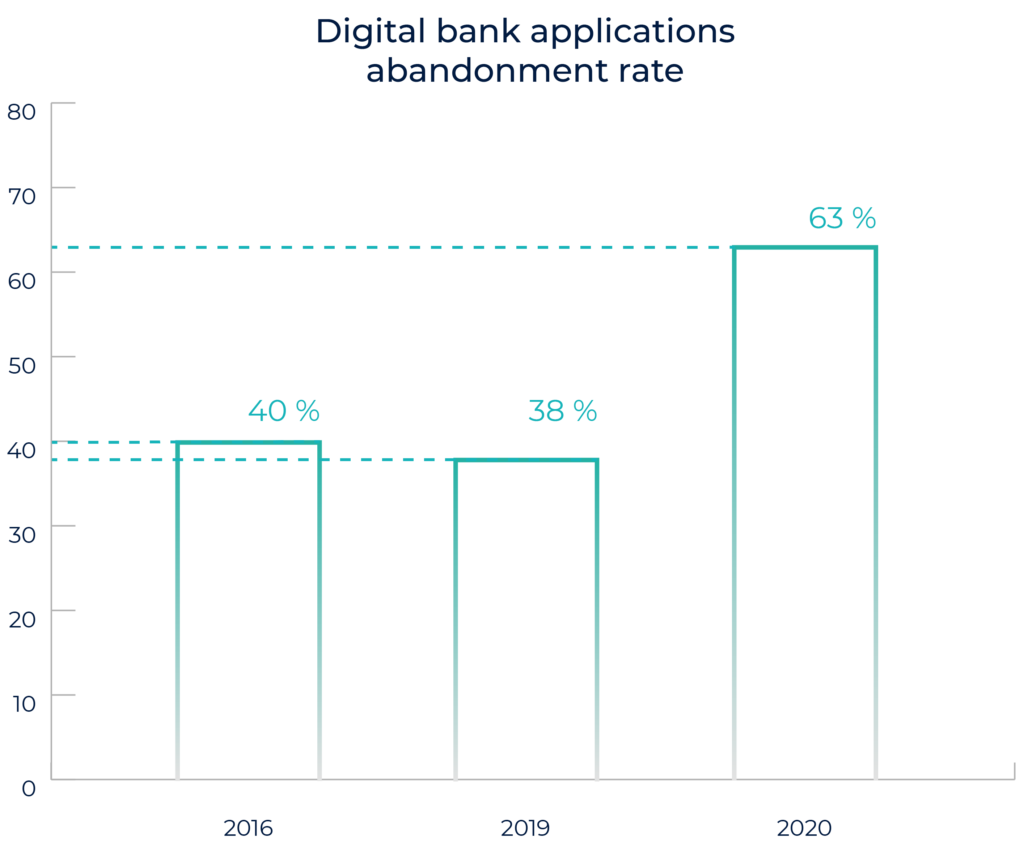 At the same time, onboarding is the first step in the customer-bank relationship. Poor onboarding harms a brand's reputation: the Signicat report shows that when faced with a bad onboarding experience, more than half of all customers are less inclined to use that bank in the future, and a third will warn friends to stay away.
The problem with poor digital onboarding
What is not working in digital onboarding? From data collected in the Signicat report, it is quite clear that while consumers used to accept poor digital experiences, they will not anymore. Young customers in particular expect fast and effortless onboarding.
Let's see some details of the data:
• Over a quarter of customers considered the onboarding process too difficult;
• One in five users abandoned the process because it dragged on too long;
• A third refuse to even start an application if they are required to take ID credentials to a branch.
---
Remote Identity Verification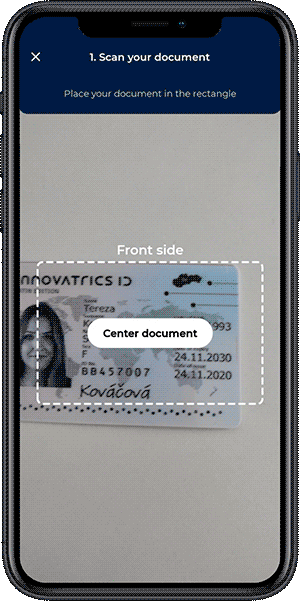 Innovatrics' Digital Onboarding Toolkit provides online identity verification for seamless remote customer-onboarding across all platforms.
Few banks today are able to offer 100% in-app onboarding. Even those with a high digital investment often still require the customer to speak to an account handler, or show a physical ID in a branch. But customers – especially during a pandemic – are expecting something quite different: a 100% digital-onboarding process.
This is particularly true for younger clients; customers that are currently 18-25 years old, and that will make up a third of all global consumers by the end of the next decade: Generation Z. Reading the report data, we discovered that 36% of this customer group said the onboarding process was longer than they had expected. More than any other age group, they abandoned applications due to lengthy processes. 22% were deterred by too many detailed requirements, while 24% simply changed their minds.
A retail bank in Slovakia onboards new customers remotely in two minutes; Students love it.
Innovatrics helped Tatra banka, a retail bank in Slovakia, to improve the speed of its onboarding with a digital solution based on biometric technologies. The progress was dramatic. Today, customers take approximately two minutes to complete the digital onboarding process, compared to the 45 minutes it takes if they do it in person at a branch. Innovatrics' Digital Onboarding Toolkit makes it possible for customer onboarding to be accomplished in two simple steps, using the customer's own mobile device.
First, the customers need to take a photo of both sides of their ID card. Then, they are prompted to take a selfie to verify that their image is the same as the picture on the submitted ID. The verification system is highly refined: the AI knows hundreds of so-called facial vectors – characteristic facial features such as eye distance, forehead size, or nose distance – and chooses the features that better define the person's face. The system is smart and already knows what to look for when verifying a face, which is why the verification happens at high speed. A further "Liveness Test" checks that the user is not trying to fool the system during this stage by using a photo or video.
The result: a 2-step digital-onboarding process that has already been used to set up 30% of the bank's total number of newly opened accounts, and more than 50% within the target group of students.
Biometrics will help in building faster onboarding experiences
A major challenge in online onboarding is proving the identity of the person signing up, without asking the customer to perform any time-demanding in-person actions such as going to a branch or calling a support number. This is where biometric technology can help: increasingly popular devices – like fingerprint or retina scans – can be used for verification, as biometric technology can measure distinctive physical characteristics of a person.
---
The future of onboarding and digital identity
Signicat's survey that took place in May and June 2020 revealed the expectations of the respondents on the future of onboarding and digital identity. Familiarity with smartphone biometrics is clearly influencing people's attitudes as to what makes a financial service secure – 44% see fingerprint scans as being a standard.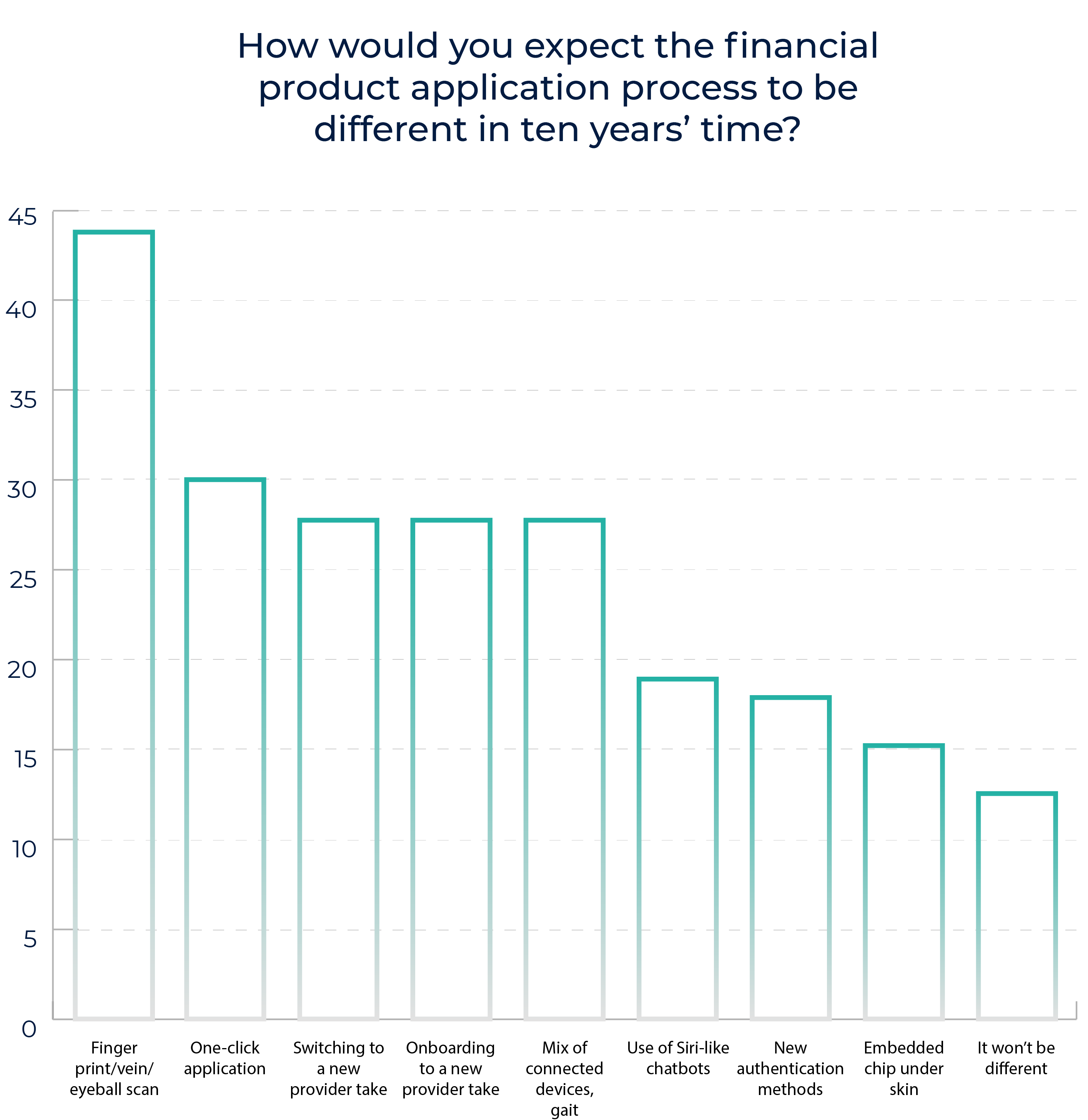 Biometrics can therefore reduce onboarding and authorisation time, as well as providing a 100% digital experience. And this is what customers are asking for.
According to the Signicat report, 44% of customers would expect fingerprint scans as being the norm for financial digital processes in ten years' time; followed by a one-click application, which is the second most popular choice.
The majority of people want, and expect, digital identities they can reuse for sensitive activities, such as accessing health services or online voting. Over half would expect to use their bank digital ID more widely, while only about one in ten (12%) say they would not. Half of the consumers surveyed believe it is better to apply for a financial product with a reusable, third-party secure login.
Closing the circle – is biometrics the solution to poor onboarding? Yes, it is. And more than that, customers are expecting it.
---
SOURCE: Signicat
AUTHOR: Giovanni Blandino